My day got started off right! I opened my email to find a message from "Trappy" at Team Black Sheep that they released a new Unify pro, this one specifically designed for Micros and Tiny whoops. Holy crap! This thing looks awesome and I can't wait to get my hands on one.
SPEC
Input Voltage: 4.5V - 5V
Power levels: 25mW / 50mW
Interface: SmartAudio and capacitive button (or solder external tactile button separately - included!)
Weight: 1.4g (incl. antenna)
Size: 13.2mm x 14.6mm
Antenna connector: u.FL (upgraded)
Antenna length: 45.6mm (end to end)
TBS Tech: Smart Audio, Clean Switch
Included in packaging
1x Unify Pro nano 5G8 VTX
1x button switch
1x TBS UNIFY PRO 5G8 Linear Antenna
6x 30awg silicon connection wires (2 black, 2 red, 1 white, 1 yellow)
Ok, so it takes 4.5-5V in. This means we're not powering it off the battery but almost every FC out there has a 5v out. It offers 2 power output levels, 25mw and 50mw, I'll cover how I feel about that below. It looks like we have 3 different ways to change channels:
Smart Audio - This allows you to change your channel through the OSD or your Taranis Radio.
Capacitive button - I'm particularly interested in this. I don't see one in the pictures but I really don't know what it should look like.
External tactile button - I'm curious as to why you'd need to solder on a button if it already has a capacitive button on-board. I assume there's a good reason for it, or they wouldn't have included one.
How does it compare to competitors?
Let's compare it to the VTX03 and the AKK Nano 2 which are 2 other very popular VTXs for micros.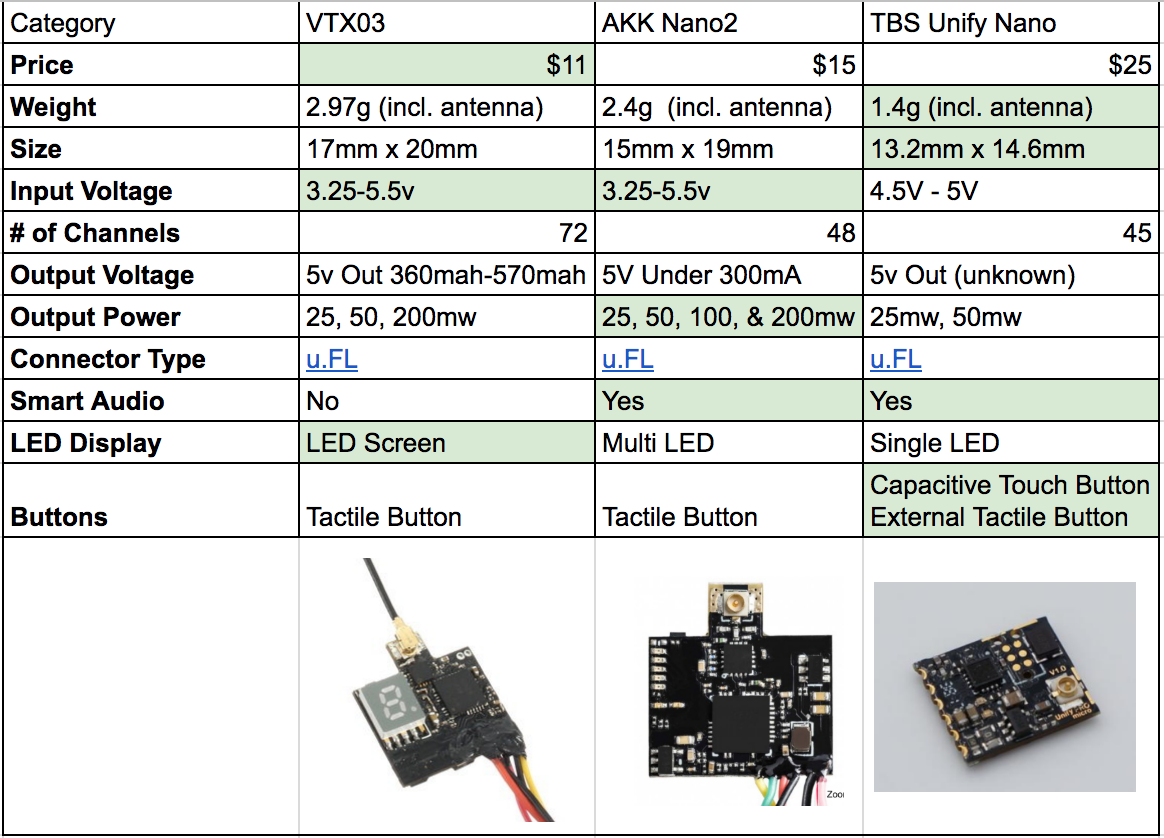 Based on the comparison, You can see that the Unify Pro Nano isn't the best in all categories. It's certainly the smallest and lightest, and it's able to achieve this by removing some features like the little LED screen for easy readout of band/channels, a tactile button, and flexibility in frequencies and power output. Not to mention it's double the cost of some of the alternatives with a similar feature set.
So, I think that you're going to need to consider your application to decide if this VTX is right for you. If you're building a Tiny Whoop or super-lightweight micro and want a top-quality VTX, this is a great option, especially when paired with the new camera TBS is releasing.
Why am I so excited about this product?
Well first of all, the ground is covered in snow here in Ohio. So that mean's it's micro season; And when building micros you need SUPER small and lightweight components. In the past these tiny VTXs we've had to use are just not as high quality as what you'd get in say a Unify Pro or Tramp. I personally have had great luck with parts like the VTX03 or AKK boards but I've seen other say that they are not great when flying with others as they don't keep to their channels and power settings as well. When you see TBS logo on a VTX though, you can almost always count on that it will excel in the area of video output precision and reliability.
Second, I don't plan on only using this on Micros. I haven't tested it yet, but I'm wondering if this might just be the VTX I run on my 4" & 5" Race drones as well. Almost all of the races are dropping 200mw spec and moving toward 25mw. I'm a huge fan of this and the races I've competed in which follow this new spec have resulted in better-than-average video for everyone. If it provides the same level of service as a Unify Pro, why not opt for a tinier package? Before I can make that decision I'm going to need to get my hands on one and get some question answered.
Questions I have about it
I reached out to Trappy to see if he could answer some questions for me but I'm waiting to hear back. I'll update this when I do. If you guys know the answers to any of these questions drop them in the comments below!
Where is the capacitive touch button located and how easy is it to use?
Does it have an LED to show band/channel/power like the Unify Pro does? It looks like it uses the 2 LED system of the Unify Pro.
Where does the button solder on?
What is this revised U.FL all about? Will it work with all older u.FL antennas?
Other Considerations
One of the things that's going to help put this VTX on quad-copters is the mounting solutions out there that exist. Some companies are opting for the mountable boards like the Matek VTX. In the past TBS has produced some of the most widely used video transmitters on the market so there are pretty good odds that 3D prints and frames are going to be coming out very soon which cater to this new VTX size.
You can order one here. http://team-blacksheep.com/products/prod:tbs_unifypro_nano#mini_cart