I have some of the latest products coming in from RTFQ and I am curious what people think about them.
RTFQ Freestyle Flight Controller V15
http://www.readytoflyquads.com/rtf-freestyle-flight-controller-v15
I haven't dug into this one yet, but it appears to be a standard F4 FC with 4 available UARTs and all of the latest of we've come to expect. It looks like they've gone crazy with the number of capacitors offering a first in the industry's by offering on-board 4v 100uf Tantalum capacitors. This is roughly 10x what you'd expect on a competitive FC today.
Camera Control adapter
So you may have a seen some of the newer flight controllers coming out, like the CL Racing F4S, with Camera Control. Does this mean you can change your camera angle mid-flight? NO.. it simply means you can access your camera's on-board menu for changing settings like the OSD, Black and White mode, or other image/sensor related settings through your radio instead of using the provided dongle. It's a convenience thing. Well RTFQ has released a tiny little wire harness & board for $1.99 that allows you to add that same type of functionality to any flight controller, provided you have an extra PWM (motor) output, extra timer, or LED port not already being used.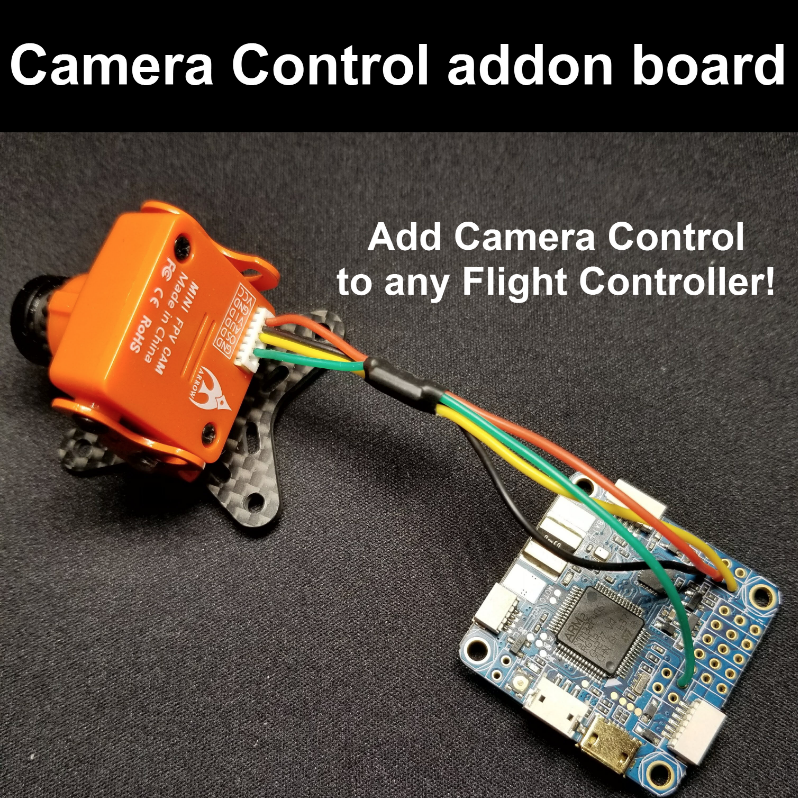 I'm guessing most of us just setup the camera when we first receive it and rarely go back into modify settings. Well with this it's easy to change from color to black&white mode to fly when the sun starts to set to get in a couple more packs. Or change any other setting depending on if you're racing on grass, inside, or on a bright sunny day. It can make a huge difference when you have direct access to the camera sensors settings. Let me know if you think it's worth the hassle in the comments below.
http://www.readytoflyquads.com/camera-control-addon-board
3amp BEC + LC filter + camera control
Ok so this little guy is much smaller than the photo makes it look. It's essentially the camera control adapter mentioned above but it also has a 3amp BEC and LC Filter. It's specifically designed for people who are burning up some of these Nano FC boards by powering a VTX & camera, which are power hungry like the Unify, off of the 5v out on their FC. This is especially prone to happen when running the VTX at a high power output like 200mw and higher. With this you can take the load off of your little FC and rest assured that you have clean ample voltage to power your video systems.