Airbot is back at it again offering next-generation technologies in Flight Controllers and ESCs in a single compact and reliable board.
Today we're looking at the NOX 2.17 From Airbot.com. The Nox comes in at $99. At first glance this might look a little on the pricey side but when you look at the next-gen features packed into this all-in-one I think you'll see that your money is well spent.
You may have heard of the ASGARD from Airbot. Well they've managed to re-create the ASGARD but this time in a 20x20mm hole pattern for your smaller micro 4" and super light 5" builds.
Flight controller features include

Built in Betaflight OSD
an F4 Processor
ICM20608 MPU/Gyro. One of the cool things is that the gyro is screwed into the top of the FC in a vibration isolating box. Because it's not hard-wired to the board, it's actually replaceable were you to damage it. Unlike other flight controllers which would just simply be ruined.
It comes with a Barometer, if you're into that kind of thing.
And a 5V BEC with LC filter (500ma).
And a 5v bec with 500ma LC filter.
4000uf capacitors on-board which means No Need for bulky caps ( show a pan or zoom of all the caps on board)
The LC Filter & capacitors are going to help you get that crystal clear video with no noise that you may have experienced on other builds.

4in1 ESC

Now lets talk about the 4in1 esc built into this board.
This 4in1 Comes with Everything you'd expect in a 2018 ESC with all the bells and whistles.
BLHeli32 - The 32-bit architecture that is becoming the new norm.
DSHOT 1200 - THis is a big step up from what most ESCs were capable of running last year
35A Per motor rating
Telemetry Output functionality
And these ESCs are fully upgradeable.
ESC upgradeable
I think it's quite incredible that they've managed to squeeze all of that into a single board with a the dimensions of 48 by 39 mm with a 20x20mm hole pattern, and the thing only weighs around 20g!
Airbot has been working with the drone community over the last few months to iterate on this board and improve it considerably though both hardware and software changes. This is something I have personally been involved with and I think you can rest assured that You're getting something that is thoroughly tested and approved by the community.
Alright now let's look at how to wire it up. Other than the main pads for power and ground where you're going to run your battery, all of the other pins are on 1 side of the board so it makes it really simple.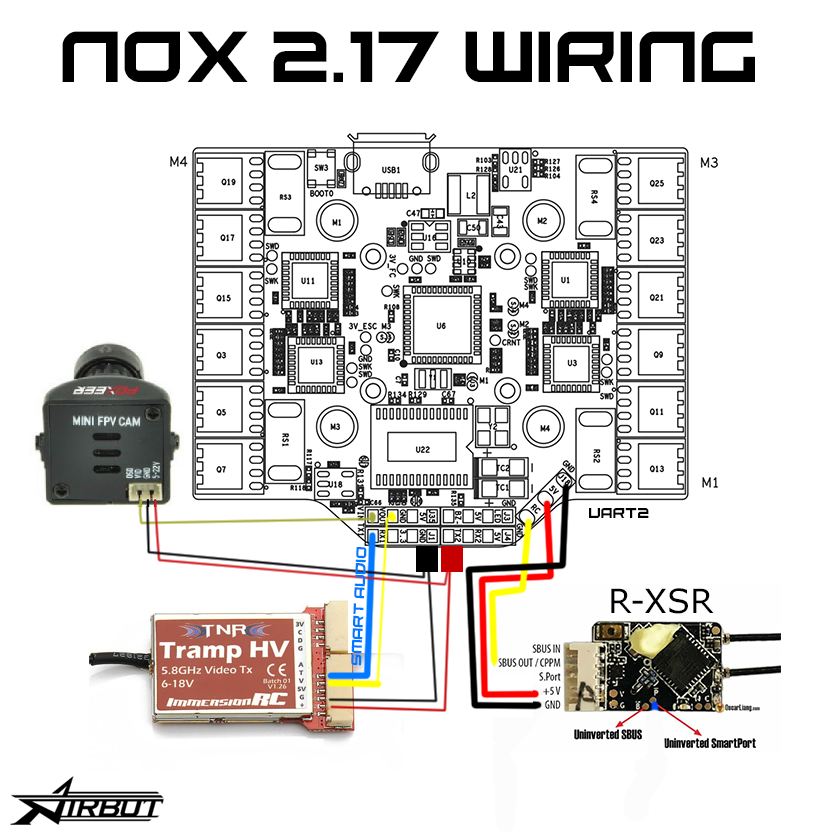 You're going to hook your receiver up to the 3 pins on the right using 5v GND and RC which is your SBUS and that uses UART 2. You'll power your VTX off of the main battery pads and and you can either power your video off of your VTXs power out, or also off those main power ground pads.
For your video you want to run that into the left-most pin labeled VIN and then run your vtx video wire to the 2nd pin over labeled VOUT
Now here's where you have a decision to make. You can either use Smart Audio on yoru VTX, or S.Port telemetry for your receiver. But not both. There just aren't enough UARTs on this board. This is my only complaint on this board. I really wish they had allowed for 3 usable UARTs.
Smart Audio is going to allow you to change your VTX settings like power, channel and band right from the OSD menu.
Smart Port Telemetry is going to allow you to tune your pids, or make fc setting changes right on your Taranis Radio.
If you're going with smart audio you can hook up the smart audio wire to TX1 in the bottom left. If you decided you wanted to use smart-port telemetry you can hook up the un-inverted Smart port to TX1.
I'm not going to bother showing you flight video of this 4" build because I found that this flies just as silky smooth as all of the other Omnibus F4 videos Ive posted in the past. To be honest with the latest version of betaflight with the filters removed when paired with this F4 processor soft mounted gyro the way it is, DSHOT1200, and 8k/8k cpu & PID cycle. You end up with an incredibly silky smooth flight that raceflight can't even compete with. I believe NurkFPV has been using the omnibus boards on his chase cam rigs and you know he wouldn't be using them if they didn't offer the peak performance he requires.
To recap, I think if you're someone looking to build a slammed lightweight 4" or 5" build with a 20x20 hold pattern and you want to reduce the amount of soldering & wiring as much as possible while still being able to use some of the more advanced features like smart audio, I think the NOX is a good fit for you. Be sure to make sure that it fits inside of teh standoffs or frame canopy you plan to use as is it quite large outside of the mounting holes
I hope this review helped you. If you have questions or comments please leave them below. I try to respond to everything. If you enjoy product reviews and how-to's on drone related topics please consider subscribing to my Youtube channel found here. Thanks!